Wood is always a favorite from ages for building houses, crafting amazing furniture and decorating a house, an office or even a garden. Wood is an amazing and artistic material for everything. We have come across several luxuriously crafted wooden items, nicely done, heavily polished, intricately carved patterns and designs. However, now is the era of natural beauty and rustic crafts. We all love the purity of natural elements around us. So, why not prefer a rough rustic piece of log to be used in furniture and other items, instead of processing the wood, killing the natural beauty and character. Here we have amazing creative Wood log furniture ideas for you to bring in natural character in your home.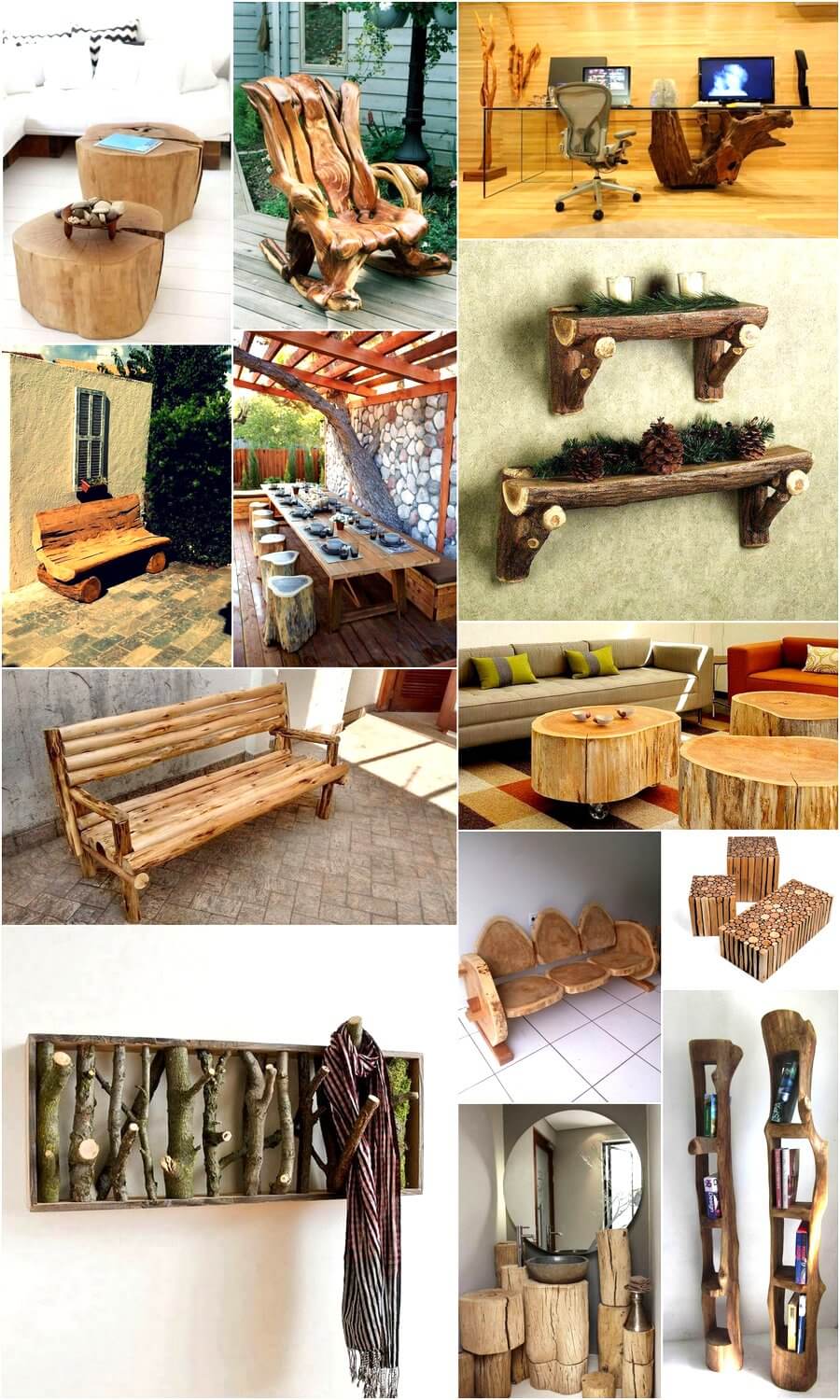 Look at this beautiful wood log bench or you may use it as a lounger. The beauty of the grains in a wooden log makes it attractive. However, it might not be possible to sit for long on this wooden log sofa. So, to make it comfortable you can use loose cushions or upholstery in any natural tone to complement the look.
Your outdoor patio or garden is a place to cherish the beauty of nature in a comfortable and relaxing way. This beautiful dining place in the patio is artistically decorated with huge dining table and rustic wooden log benches, dominating the natural character and feel of the environment.
Center tables are actually the center of attraction of your lounge or a guest room. Making it more prominent with inculcating rustic wooden sliced log center table will be a great idea. This artistic center table will surely draw the attention of the visitors for all the good reasons. The table has simple wooden legs with nice and dark polish on the table top.
Wooden logs are great for any corner of your home and can bring a natural element to the interior. These wooden logs in a washroom, installed along with a few steel pipes and shelves are beautifully serving as bathroom accessory shelf, fulfilling your need in style and beauty.
You will simply love this study room wood log book shelf. There is nothing complex in it. You just have to add in a nice and long wooden log of average thickness as a pillar to your normal average book shelf. But, you will witness the impact is far more greater. You will feel an amazing impact in your study area or any where at home.
If you a re person who love innovation, uniqueness and creativity to dominate everywhere in your life, then you must experiment to bring in the natural elements to your professional space too. This amazing wooden log office table idea with huge glass top is fusion of modern with rustic materials. The tree bark is dominating the whole aura.
This awesome piece of natural art, that can be a purposeful hanger hook and can also just be an awesome wall hanging in your corridor is simply a head turner. Each small branch or tree log has its unique identity and beauty. A simple scratch, or faded wooden tone, enhances its artisitc identity and value. So, instead of throwing them, fix them in a frame and flaunt that beauty at home.