Do you enjoy doing work around the house and yard that you can do yourself? We've identified some gorgeous wood and log crafts that we know you'll adore. Logs of wood may be used in a wide variety of ways, both practical and creative. Why not? The rustic and natural appearance of wood is something that many people adore. One of nature's most beautiful gifts is it.
The crafts we offer here range from adorable creative candle holders to useful table and chairs. There are a tone of concepts! Logs of wood may be used to make coasters, planters, coat hangers, and many other things. Please take some time to go over the amazing craft ideas here:
Spruce up your lawn with these cute bunnies crafted with logs. This one requires logs, some basic items and a guide about crafting them. A pair of bunnies, just tie a pink ribbon to one of the bunny and this décor will look super cute. A amazing thing which is super pocket friendly.
A brilliant white railway made from wood logs may be seen here. No extra materials were needed in the construction of its engine and bogies. Its motor and every bogy are turned into some amazing plants that are rather different. This is another type of garden decoration art craft that serves a variety of functions.
You may decorate with ghosts in a variety of ways for your outdoor Halloween area. Here is one of the most affordable. You only need a few extra wooden logs, this kind of blackboard paint for the foundation, and craft paint for the embellishments to duplicate these ghosts.
Both indoors and outdoors are ideal places to showcase this lovely swan planter! You can find all the information you need to finish this project in our full-size pattern. A log may be used to create a gorgeous flower garden by placing pots of various colors from the collection on it.
Give Your Backyard's Dead Trees a new life with this idea. You can add even more rustic and natural elements to your outdoor decor. The main support of the decor is provided by thick wooden logs, and then the plant pots are added. Keep its appearance rustic to ensure that it completely complements the garden's atmosphere.
This centerpiece box will look lovely stained in an aged walnut hue or distressed. On the face of the box, you could put some simple flowers or perhaps vinyl text. Wouldn't it look lovely with wheat and pumpkins in the fall or with evergreens and bulbs at Christmas? I kept mine straightforward with plants for now!
If you look closely, you'll see that the fun swinging character's body and head are both birdhouses. Simply suspend the two swing ropes from a tall tree branch and enjoy the show as the birds start to arrive. An enjoyable and simple craft made of wood.
Who has hopped in? A fresh shipment of the adorable wooden rabbits. They offer a charming touch to the house or yard and are created with wooden logs. Although you can choose any number but three make a stunning décor for the backyard. Super affordable and cute!
We decided to present a unique offering this year. What about a man climbing the ladder and holding colorful flowers in the pot at the back? Wooden logs and a variety of garden-ready plants What could be more ideal to enliven the garden. You can paint it and the ladder or simply keep it natural.
Your children will undoubtedly be inspired by this log doll, and they will adore it. They would not only be more eager to engage in gardening activities, but they would also gain from the fresh air. Instead of pursuing the traditional art crafts that are rather expensively marketed in the market, let your creativity go wild and create some genuine reused items for your green business.
You'll want to have the rustic log owls in your home since it is so adorable. You will adore the distressed appearance that elevates it above a simple log. This concept is simple to implement and won't need much effort. Don't forget to add a pair to make it more interesting for little guests.
The ideal indoor home for your tortoise is a tortoise with plant pot. They are different from all other crafts as tortoise are not yet discussed above. The majority of owners maintain their tortoise décor with some plants or colorful flowers. Unless you have a tropical tortoise that loves a humid atmosphere, it's important to maintain fresh air circulating in your pet's habitat.
Now is the time to enhance the attractiveness of your garden, and this dancing log man with planters is the ideal accessory. Simply use any of the striking paint colors to decorate a rustic, withered timber log, like the brown one seen here. Don't forget to add your favorite flowers in the planters.
Who wouldn't adore owning a log decoration that only costs a few cents? So, this is the concept behind the wooden log bench with the plan pots rather than sitting idea. The fact that this decor is fashioned out of hardwood logs makes it special. For this project, you'll need a lot of wooden logs as well as some basic crafting materials.
Want something affordable but unique from all the rest? How about crafting your own log man sitting on the log with plant pots out of this free piece of knotty wood? Yes, a cedar tree and a log were used to create this lovely décor. I kept the sunflowers however you are free to add yours favorite.
In the event that you love cute characters making this rooster is awesome idea. Slice a branch down the middle lengthways, utilize the extra wood to make the feathers, and afterward treat the wood. You can paint or stain to give an alternate look. On the other hand, you don't for even a moment need to cut the branch lengthways, simply leave it entirety.

Assuming you have a progression of gorgeous branches, and you need to bring the normal look inside, you can utilize them to make this alluring looking owl story characters family. Preferably, you can likewise add or omit the characters otherwise.
It's astounding what you can make with one thick log, five cuts of a log, and some creative mind (or the plans). For this situation, you can make charming looking man sitting on the chair that will look perfect in a nursery however would likewise function admirably in a yard or lobby that interfaces the outside to within your home.

Do-It-Yourself tickers are significant, useful, and shockingly simple to make. Furthermore, the close round state of a cross-part of a log settles to make a log man relaxing. Stamp, consume, or paint the man; and pick hands to make the most attractive character for the lawn.

Figure out how to make a lovely couple out of wooden cutting chunks here as opposed to purchasing, which can cost you a fortune when all they truly are cuts of a log. Paint the one in yellow and other in brown and an addition of rope as arms will look interesting.
Bookends keep books from sliding and guarantee that they stay stood upward. As opposed to spend cash purchasing bookends, you can make your own by involving a cut of a logs and turn them into multiple edge table.

In the event that you have a method for drilling a few wide openings in a log, you have the method for making an alluring, practical snowmen that will look perfect in any window outside yet will function admirably for any home. Add maroon and blue mufflers for ultimate winter look!

With a fair assortment of branches and slight logs and cautious estimation, you can make this appealing looking jeep car made out of logs. It's perfect for kids and in addition to the fact that it works with logs of various breadths, yet it likewise profits by having parts of various sizes in its development.
All you really want to make this table is the legs and a huge cut of wood. You will likewise need to wax and treat the wood, yet tables like these can cost many dollars, while making one yourself costs simply a negligible part of that and provides you with a lot more prominent feeling of fulfillment.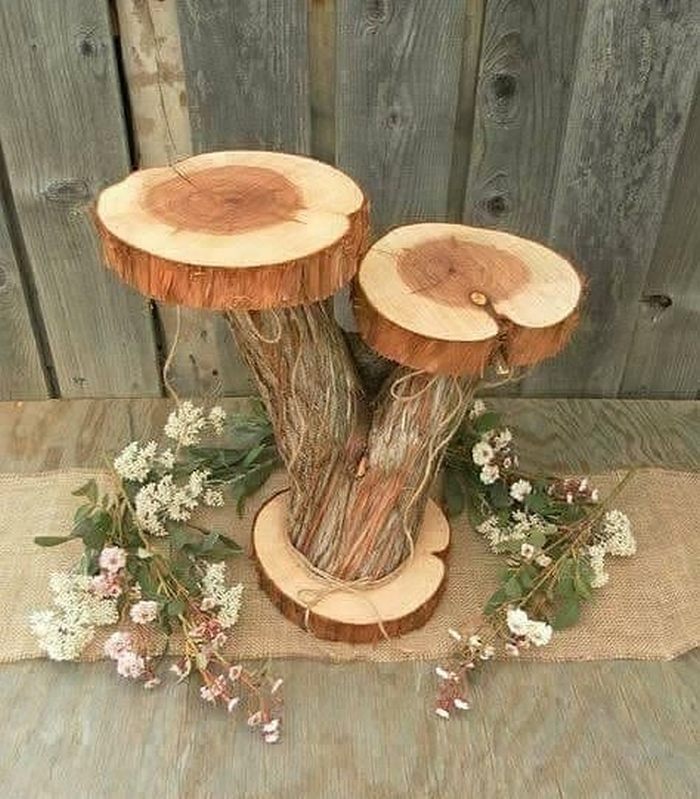 You might need to adjust the plan as indicated by the cuts of wood you have accessible, as well as will's desired individuals to make this stunning bike. Be that as it may, assuming that you approach a lot of wood, and the right instruments, you can make a whole outdoor bike, a perfect gift for bikers.
It very well may be appalling when a generally solid tree is felled by the breezes, or by some other regular or synthetic catastrophe. Nonetheless, you can convert them and make them a part of your home gym. You don't need another weight item with these logs available.

With a fair stump and a decent saw, you can really transform the logs into beautiful flower. It will keep intact in spite of the fact that you might need to sand it down to forestall splinters and it would profit from being dealt with so it is smoother and more agreeable. Paint it to make it even more interesting.
Extremely easy to make, these twin bunnies are simply super cute so they can undoubtedly be moved around. They would function admirably on the porch as an entrance decor, or they could be used as a décor for the Halloween evening. An addition of red and maroon bows are a must.
These significant tree houses plan is shockingly easy to make. It takes a couple of cuts of a tree, preferably from a similar log to guarantee sensibly uniform size, yet it will function admirably as an outside décor or for kids to let them play. Don't forget to add windows and door.
Are you looking for interesting present for your loved ones? Log steps look great when they are utilized on slopes and around the nursery in light of the fact that the wood logs itself impeccably to the normal environmental elements. Adjust the designs to meet your own size and space necessities.
Wood has normal magnificence, however even the carved lines from the power saw can add to that excellence and give wood cuts some extra surface. Make a piece of normally gorgeous and striking plant pot utilizing wood cuts from your nursery.
Among the shocks you ought to provide for your cherished one during your big day is a log cute bunny. Don't forget to use the white paint to draw its eyes and the other essential face features. An interesting décor for the winter time of your home.
You should praised your bubbly season with new things. We have had numerous thoughts, including the twin beautiful plants. Yet, presently, here is an amazing wood log thought that will bring the topic impeccably. Get some artificial flowers to complete the looks.
Here is a stunning masterpiece crafted out of logs a cute and giant rooster. Its truly simple to compose or paint onto log cuts utilizing indelible markers or paint. You can utilize little cuts to work out the cuts and give the original look to this rooster.
You can likewise utilize greater cuts to work out this delightful owl in the image below. What about utilizing it as a décor later or to gift it as a present to the kid on the upcoming birthday. It's an extraordinary method for invigorating discussion, interface with nature and acquaint kids with new ideas and words.
A most loved idea to make something interesting out of the logs is to make a bunny family that is so basic and fast to set up. All you want are logs and a guide with some time to make them up. The kids can then alternate spreading out according to their preferred setting.
Do you or your kids are inspired with some Disney story characters? The point about crafting this tree house with the dwarfs is to make an interesting Halloween décor. On the other hand you can utilize stones or cut out cardboard circles or shapes to complete it up.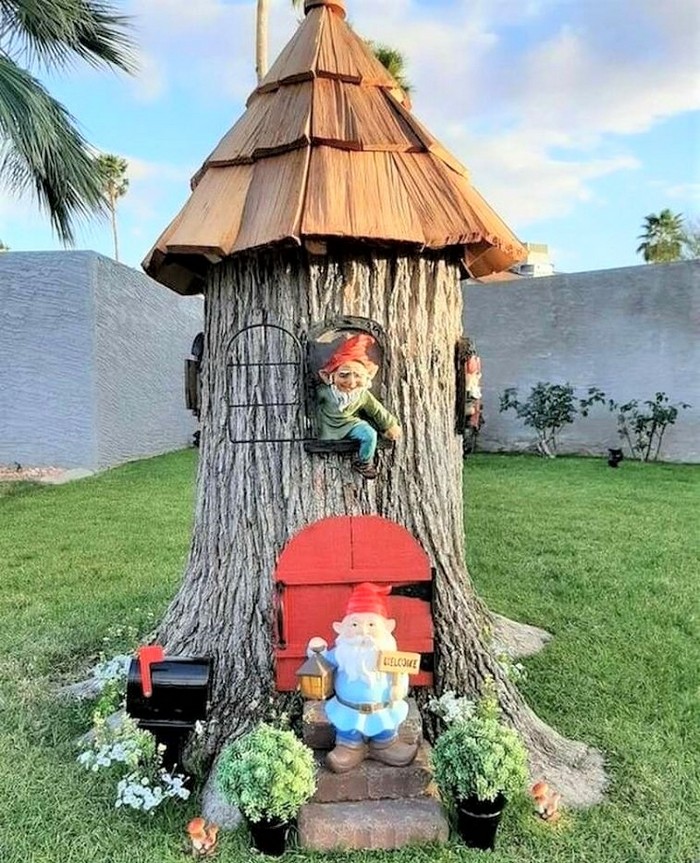 Here is something amazing to try this season if you want to make something easy but beautiful with the logs. A plant pot over the basic log with the flowers or plan of your choice. You can figure out more about making this décor and start working on this.