Most folks would go hunting for some horrifying decor items when it comes to decorating their homes in a spooky theme. It is simple and efficient to buy Halloween decorations from the market, but this is not the only option to set the mood for the frightening celebration. Making something out of pallets that you can proudly exhibit is an option.
If you are one of the people who prefer to make your own Halloween decorations instead of buying them, you may have already used wood pallets because they are a readily available and adaptable material.
The following pallet wood Halloween decorating ideas are ideal for elevating your eerie party décor to a whole new level.
Here is an amazing decor idea for Halloween. How to create a killer zombie pit for your Halloween decorations. Fantastic lighting, fog, and sound effects! Just purchased only a small portion of items and already had the most of it at home. Wood pallets will complete the zombie pit. It is perfect for day and nighttime.
If you're seeking for a low-cost Halloween decoration for your garden that will scare your children and neighbors. Get motivated by this giant pallet beast created from recycled wood pallets and a short piece of rope. On October 31, the beast will look fantastic in the garden with some holiday lighting.

Nothing better than a glowing Jack-o-Lantern sets the mood for the eerie celebration of occasion We put them up in every room of our home, but this year we are eager to try a different approach by using a pallet wood jack-o-lantern to light up the incredibly exciting evening. Making a jack-o-lantern out of pallet wood is the simplest way to decorate for Halloween.

Pallets may also be used to create Halloween decorations that are perfect to say boo in cute style. Pallets should be painted orange, yellow, and white after being cut into the correct form. Create larger ones for use outside and smaller ones for the living room. Kids may have fun making Halloween decorations out of leftover wood.
Any bold person would be terrified by a pallet coffin in the backyard with surrounding pumpkins, or eerie lights and skeletal hands protruding from it. With a pallet wood coffin and spooky ghost sculptures, there are many ways to make your yard appear haunted. The photograph below will provide you ample inspiration.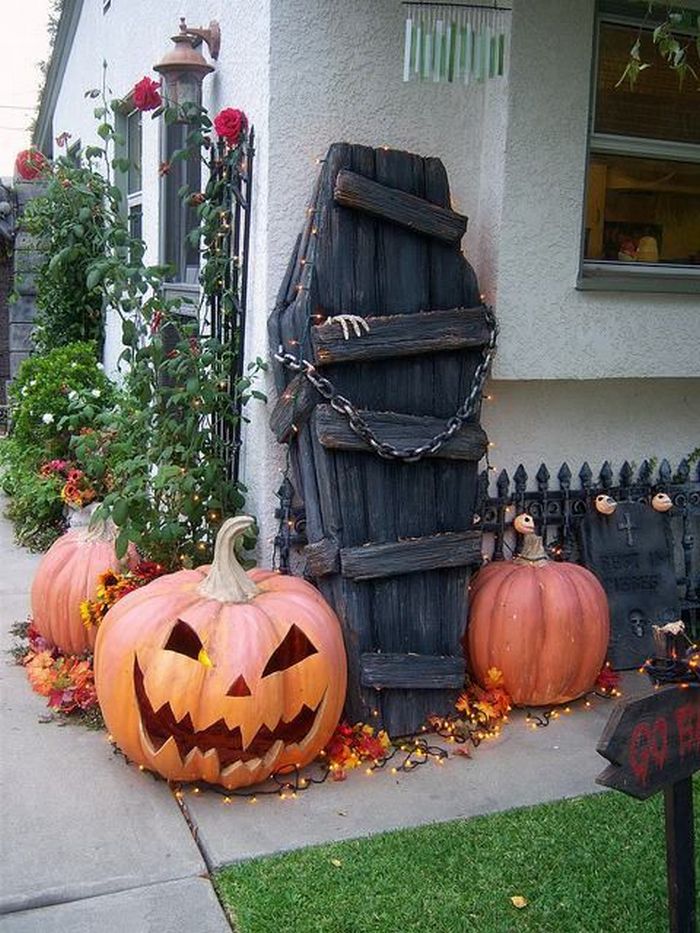 Another unique ideal that would make the guests terrified by a pallet coffin in the backyard with eerie lights and skeletal hands protruding from it. With a pallet wood coffin and spooky ghost sculptures, there are many ways to make your yard appear haunted. Get the pallets and start making it.

Want to wow your little Halloween guests? Pallets may be used to create a board with spiders web over it. It will appear alluring at the home's front door. There are many other Halloween pallets decorations available online, but this one is definitely attention-grabbing.
Make your gateway inviting for both wicked spirits and your visitors if you want your Halloween party to be a smashing success. This may be accomplished by hanging a haunting "Go Away" sign from your front door. If you find some wood pallets in your backyard, you'll be lucky since it will save you a tone of money.
It might be challenging to limit your options while looking for the ideal Halloween entrance. This Halloween entrance will not only are they ideal for making your entryway appear thrilling, frightful, and magnificent, but they are also dirt inexpensive. They provide a rustic appeal to your front entrance and are far superior to those glitzy wreaths.
Nothing will keep young children happier at home than these adorable pallet jack lantern. Just observe how surprised they seem to be in wishing you a Happy Halloween while their eyes sparkle and they occasionally smile. Easy to make, these adorable lanterns are made of pallet wood.
After building a graveyard in your backyard, it's time to cover it with a pallet fence to make it appear more authentic and spooky. Pallets make an excellent fence, and since they are naturally uneven and rustic, you don't even need to paint them to make them seem good. In the dark with night lights, the barrier appears fantastic and frightening.

This killer zombie pit made from pallet wood are adorable enough to add to the fun and allure of your Halloween party. They'll immediately make your party appear inviting. The best part is that you don't need to be an expert DIYer to create them, yet they still manage to look stunning wherever you put them.
Pallets of wood work fantastically well to create a scary decoration like this one. If your basement is full of pallets, you're in luck because here is your chance to adorn your book table with this board made of pallet wood that have ominous messages carved into them. We assure you that this decor will keep your Halloween celebration more jovial and fun than spooky.

We adore this trick or treat concept, and it provides us an opportunity to better utilize wood pallets from landfills while also cleaning our backroom for a good cause. Skulls, bones, and skeletons can be added with it if you want to give it a spookier look. This Halloween, we can't wait to give it a try.

Old, discarded pallets may be used to create Halloween decorations outside of your home. The pallets must be spooky-styled attached to outside windows. Your ingenuity determines whether to paint them black or leave them unpainted. The pallet wood Halloween decoration may easily be made scary by adding some zombie heads or faux cobwebs.

Here is another killer zombie pit. Try placing it in your backyard if you have young children or simply want a more jovial fall and Halloween display. One creative and inexpensive suggestion for a good Halloween décor is a killer pit made of pallet wood.
Looking for something scarier yet affordable? This killer pit, with the grey pallets and appearing hands will welcomes malevolent spirits, has greatly impressed us. Just add some of the red lights and it will surely alive the Halloween effect in the night.

It's simple to create coffin with protruding hands out of wood pallets to use as decorations. Use green light for the boundaries and make it ideal for your Halloween party. The appearance may be finished off with goofy eyes or painted completely. You only need to be imaginative when arranging the pallets to make them seem like a coffin.